Saint Thomas Aquinas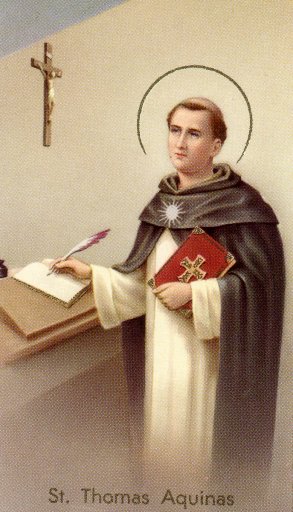 (1225 - 1274)
Feastday: January 28
Also known as: Thomas of Aquin, Thomas d'Aquino or Aquino
Thomas Aquinas was born towards the end of the year 1225 into a well-connected Italian family, related to the Emperors Henry VI and Frederick II as well as the royal families of Aragon, Castile, and France, during the high Medieval Age. His father, Landulph, was Count of Aquino, and Lord of Loretto and Belcastro; his mother Theodora was daughter to the Count of Theate.
At the age of five, according to the custom of the times, Thomas was sent to receive his first training from the Benedictine monks of Monte Cassino. Diligent in study, he was thus early noted as being meditative and devoted to prayer, and his preceptor was surprised at hearing the child ask frequently: "What is God?" In 1236 the Abbot of Monte Cassino, knowing that this small boy deserved better instruction than his community could provide, sent him to the University of Naples where in a matter of months St. Thomas reportedly began to surpass his professors in knowledge and understanding.
Thomas joined the Dominican order while still an undergraduate in 1243, the year of his father's death. His mother, opposed to Thomas's affiliation with a mendicant order, confined him to the family castle for more than a year in a vain attempt to make him abandon his chosen course. She released him in 1245, and Aquinas then journeyed to Paris to continue his studies.
Aquinas was ordained a priest about 1250, and he began to teach at the University of Paris in 1252. His first writings, primarily summaries and amplifications of his lectures, appeared two years later. His first major work was Scripta Super Libros Sententiarum, 1256, which consisted of commentaries on an influential work concerning the sacraments of the church, known as the Sententiarum Libri Quatuor (Four Books of Sentences), by the Italian theologian Peter Lombard. He became Papal advisor in 1259. He is most famous as a philosopher, and a leading Catholic theologian, who came at a time when the Church was in need.
Following Mass on the Feast of St. Nicholas (December 6), 1273, Thomas gave up his writing. When asked whether he ought not continue, he replied: "All that I have written seems to me like straw compared with what has now been revealed to me." Three months later, he died March 7, 1274, while journeying to the Council of Lyons. Thomas Aquinas was canonized by Pope John XXII on July 18, 1323 and was proclaimed a Doctor of the Church in 1567. His tomb is in the Basilica of St. Sernin at Toulouse.
Patron: of all universities and of students.
Prayer of Saint Thomas Aquinas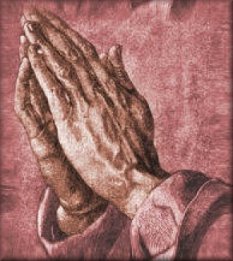 Almighty and everlasting God, behold I come to the sacrament of Thine only-begotten Son, our Lord Jesus Christ: I come as one sick to the physician of life, unclean to the fountain of mercy, blind to the light of eternal brightness, poor and in need of the Lord of heaven and of earth. Therefore, I beseech the abundance of Thine infinite bounty that Thou wouldst vouchsafe to heal my weakness, wash my uncleanness, give light to my blindness, enrich my poverty, and clothe my nakedness, so that I may receive the Bread of Angels, the King of kings, and the Lord of lords with such reverence and humility, such contrition and devotion, such purity and faith, such purpose and intention, as shall aid my soul's salvation. Grant unto me, I beseech Thee, not only to receive the sacrament of the Body and Blood of the Lord, but also its full reality and power. O most merciful God, grant me so to receive the Body of Thine only-begotten Son, our Lord Jesus Christ, which He took from the Virgin Mary, that I may merit to be incorporated into His mystical Body and to be numbered among His members. O most loving Father, give unto me to behold for all eternity face to face Thine own beloved Son, whom now upon my pilgrimage I purpose to receive under a veil, who liveth and reigneth with Thee in the unity of the Holy Spirit, God, world without end.
Amen.