Our Lady of Montserrat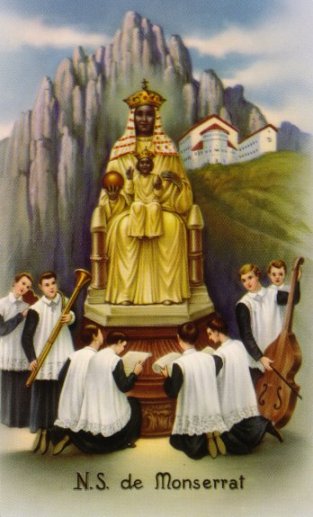 The Patron Saint of Catalonia
Feast Day: Aprll 27
On the mountain named Montserrat, near Barcelona, in the Catalonia region of Spain, a church now contains a 'miracle- working' statue of the Madonna and Child known as La Moreneta, that is: the dark little one.
The origin of the devotion to Our Lady at the shrine of Montserrat according to the earliest written records dates from 932, when the Count of Barcelona confirmed and renewed an endowment to the shrine made by his father in 888. This gift was again confirmed in 982 by Lothaire, King of France.
Another account, seemingly well-attested, indicates that the image was moved to Montserrat in 718, to avoid the danger posed by invading Saracens. The image disappears from the historical record at this point, to reappear in a legend holding that shepherds found the lost statue under supernatural guidance in 890:
While tending their flocks that night the shepherds were amazed to see lights and to hear singing coming from the mountain. When this was repeated, the shepherds reported the situation to their priest, who investigated. When the priest also heard the singing and saw the mysterious lights, he informed the Bishop, and he also witnessed the phenomenon. The statue of Our Lady was discovered in a cave and was brought out and placed in a small church that was soon erected.
The Monastery of Montserrat, located near the top of the 4.000-foot mountain, is home to about 80 monks. The monks welcome visitors and invite them to participate in their daily celebrations of Mass and recitations of the Liturgy of the Hours.
Black Madonnas are found all over Europe, especially in France, the most famous ones being at Chartres in France, Czestochowa in Poland and Montserrat in Spain.
On September 11, 1881, Pope Leo XIII declared the Black Madonna of Montserrat the official patron saint of Catalonia. Her feast day is celebrated on April 27.