Saint Louis de Montfort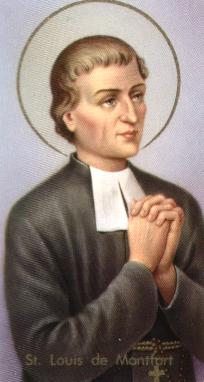 1673 - 1716
Feast day: April 28
Louis Marie Grignion was born in the village of Montfort in Brittany on 31st January 1673, but spent most of his childhood at Iffendic, a small town a few miles away. At the age of twelve he was sent to the Jesuit College of St. Thomas Becket at Rennes, where he remained for eight years.
Educated at Rennes, he was ordained there in 1700, becoming a chaplain in a hospital in Poitiers. His congregation, also called the Daughters of Divine Wisdom, started there. As his missions and sermons raised complaints, Louis went to Rome, where Pope Clement XI appointed him as a missionary apostolic. Louis is famous for fostering devotion to the Blessed Virgin Mary and the Rosary.
Louis went to the French town of Nantes as a rural preacher and then to Poitiers, where he reorganized a hospital for the poor and began the Daughters of Wisdom, a congregation dedicated to the care of needy children and the sick. In 1705 he founded the Montfort Fathers to continue his mission and retreat work and to spread devotion to Mary.
The Roman Catholic Church, under the pontificate of Pope Pius XII canonized Montfort on July 20, 1947. A "founders statue" created by Giacomo Parisini is located in an upper niche of the south nave of Saint Peter's Basilica.
Devotion to the angels
Even as a seminarian in Paris, Montfort was known for the veneration he had toward the angels: he "urged his confreres to show marks of respect and tenderness to their guardian angels." He often ended his letters with a salutation to the guardian angel of the person to whom he was writing: "I salute your guardian angel". He also saluted all the angels in the city of Nantes, a custom that, it appears, he repeated when he entered a new village or city.
One of the reasons why Saint Louis Marie de Montfort had such devotion to the angels is that veneration of the pure spirits was an integral part of his training and also of his culture. His college teachers, the Jesuits, were known for their zeal in propagating devotion to the angels. Montfort's seminary training under the Sulpicians brought him into contact with the thought of Cardinal de Bérulle and Olier, both of whom had deep veneration for the angels. Furthermore, in the course of the seventeenth and eighteenth centuries, manuals of piety and treatises on the pure spirits were numerous.
From priest to preacher
Final years
He left Nantes and the next several years were extraordinarily busy for him. He was constantly occupied in preaching missions, always traveling on foot between one and another. Yet he found time also to write - his True Devotion to Mary, the Secret of Mary and the Secret of the Rosary, rules for the Company of Mary and the Daughters of Wisdom, and many Hymns. Just before writing True Devotion he became a Dominican tertiary. His missions made a great impact, especially in the Vendée.
The heated style of his preaching was regarded by some people as somewhat strange and he was poisoned once. Although it did not prove fatal, it caused his health to deteriorate. Yet he continued, undeterred. He went on preaching and established free schools for the poor boys and girls.
Death and burial
Worn out by hard work and sickness, he finally came in April 1716 to Saint-Laurent-sur-Sèvre to begin the mission which was to be his last. During it, he fell ill and died on 28 April of that year. He was 43 years old, and had been a priest for only 16 years. His last sermon was on the tenderness of Jesus and the Incarnate Wisdom of the Father. Thousands gathered for his burial in the parish church, and very quickly there were stories of miracles performed at his tomb.
Exactly 43 years later, on April 28, 1759, Marie Louise Trichet also died in Saint-Laurent-sur-Sèvre and was buried next to Montfort.
On September 19, 1996, Pope John Paul II (who beatified Trichet) came to the same site to meditate and pray at their adjacent tombs.