Saint Dorothy of Cappadocia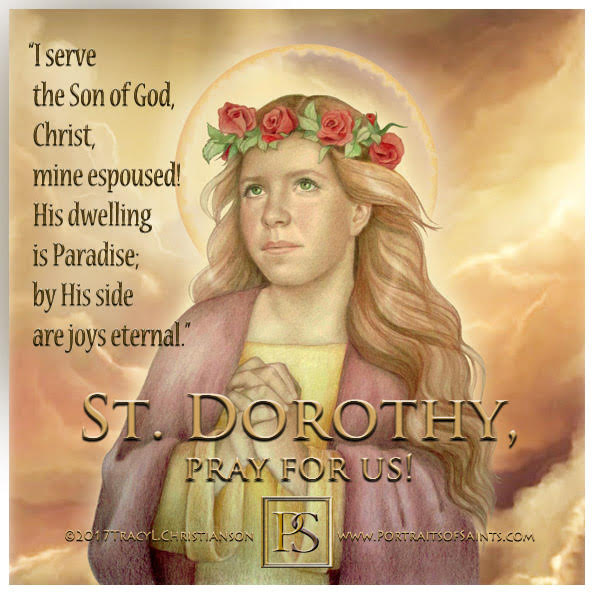 Virgin and Martyr
Feastday: February 6
Dorothea of ​​Cappadocia is a Roman Catholic saint. She is said to have been born in AD 290 and fled from Rome to Caesarea in 303 to escape persecution from Emperor Diocletian.
He was a Christian hater. Dorothea's parents, who were Christians and in diplomatic circles in the capital, had fled to a remote corner of the Empire as a precaution.
In Caesarea, the Roman governor proposed to her, which she refused because she did not want to give up her faith. She was then sentenced to death by the enraged governor.
The Legenda Aurea tells that on the way to her execution, Dorothea pronounced the name of Jesus, whom she considered her bridegroom. A young lawyer named Theophilus scoffed at this, telling her that if he got flowers and apples from the bridegroom's garden, he would repent. After Dorothea's death, a little boy brought him a basket full of fruit and flowers, even though it was the height of winter. To the anger of the governor, he too repented and was also beheaded.
Saint Dorothea has been worshiped since the 7th century; her cult spread towards the end of the Middle Ages, mainly in Italy and Germany.
Dorothea was a popular saint, especially among maternity wives and newlyweds. In art she can be recognized by the basket with flowers and fruits and by her torture device, the sword.
Dorothea is invoked by women in labor, flower and fruit sellers, gardeners, brides, brewers, the dying and newlyweds. She is also a patron saint against false accusations and poverty.
Given the date of her feast day, St. Dorothee usually brings snow, a statement that often comes true.