Saint Bernardino of Siena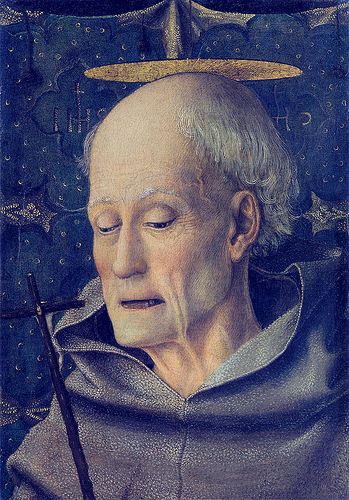 September 8, 1380 (Siena) - May 20, 1444 (L'Aquila)
Feast day: May 20
The Franciscan Bernardinus of Siena was an Italian priest, missionary and is a Catholic saint. He was born on September 8, 1380 in Massa Marittima, Italy.
He was left an orphan at the age of six. Bernardinus, however, was raised with great care by his pious aunts. His childhood was flawless and captivating. In 1397, after a course in civil and canon law, he joined the Confraternity of Our Lady, attached to the large hospital of Santa Maria della Scala.
Three years later, when the plague returned to Siena, he emerged from the life of seclusion and prayer that he had embraced, to serve the people affected by the plague. Assisted by ten companions, he took full charge of this hospital for four months.
He was the greatest preacher of his time, touring Italy, calming battle-torn cities, attacking the paganism he found rampant, and drawing crowds of 30,000 people, following the admonition of Saint Francis of Assisi to preach about 'vice and virtue, punishment and glory'.
The saint brought peace to the city in question, reconciling families and factions, sparking conversions and huge crowds to listen to him. From 1430 he devoted himself to the compilation of theological treatises.
He was appointed Vicar General of his order and commissioned by the secular authorities of important diplomatic missions. He then resumed his apostolic travels, but died on May 20, 1444, in L'Aquila, Italy, from a tree that fell on him. Many miracles took place around his body which was exposed for three days. The saint is a Doctor of the Church.
Some treat Mary as a heavenly being made human in order to give flesh to the Son of God. Others claim that she co-created the world with God or regard it as completing the Holy Trinity. Saint Bernardine of Siena does not hesitate to emphasize that Mary is superior to God in some respects!
The Siena Collage is a Franciscan Catholic liberal arts college named after him. The remains of Bernardinus are located in the Basilica of San Bernardinus in L'Aquila, Italy. The church was built just after Bernardinus' death and was declared a minor basilica in 1946.
Saint Bernardine was canonized in Rome on 24 May 1450 by Pope Nicholas V.
Saint Bernardino is the Patron Saint of Capri, Italy and also of advertising and communications.