Saint Peter Canisius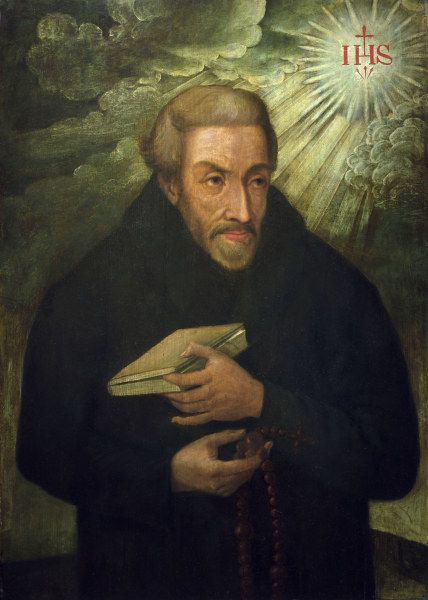 Confessor and Doctor of the Church
1521-1597
Feastday: celebrated on December 21 (in Germany and according to the Calendar of Saints before the Second Vatican Council: April 27).
Petrus Canisius was born in Nijmegen on May 8, 1521 as Peter Kanis. He was the son of mayor Jacob Derickszoon Kanis and Jelis van Houweningen. His mother died at the age of five and his father at the age of 23.
After his Latin school in Nijmegen, he studied philosophy and theology in Cologne and obtained his doctorate degree. He also studied canon law in Leuven for a short time. In 1543, after a meeting with the Jesuit Pierre Lefèbre (Blessed Petrus Faber), he became the first Dutchman to join the then newly founded Jesuit Order.
Petrus Canisius then studied in Rome and Bologna. Living in a very difficult era in Church history, he has accomplished tremendously. He founded the first Jesuit college in Messina, taught at various universities, worked on the development of the Jesuit order in Austria, Bohemia, Bavaria and Tyrol, and in Germany was the great fighter for the Catholic Reformation. He participated in the Council of Trent and wrote important apologetic and hagiographic works.
His most famous catechism is the Summa Doctrina Christianae in question-answer form, which has been translated into many languages ​​and has countless editions. This Catechism of Canisius was published in Vienna at the beginning of May 1555, by order of King Ferdinand. Within the Catholic Church, the book became so influential that "Canisius" became the generic name for a Catholic catechism. Between 1555 and 2005, no fewer than 1,115 different editions of Canisius' description of Catholic principles were published in 26 languages. Until the 1960s, the catechism was the guiding principle for many Catholics in everyday spiritual life.
In 1582 he founded a college in Freiburg, Switzerland. Here he spent his last years and died there on December 21, 1597. Some of his relics (fragments of a vertebra and his shoes) were taken to his hometown Nijmegen (Molenstraat). In 1925, Pope Pius XI declared Canisius a saint and, for his authoritative writings, also made him a Doctor of the Church.
Thanks to the Museum Het Valkhof / http://www.museumhetvalkhof.nl, from whom I have received permission to use the above image of Petrus Canisius for this homepage.
Petrus Canisius parish
Molenstraat 37
6511 HA Nijmegen (The Netherlands)
Telephone number 0031 24 - 3226480
Email address petruscanisiusparochie@chello.nl
Homepage of Petrus Canisius parish: https://www.stefanus.nl/canisiuskerk
Start time main Sunday celebration 10.30 am