Our Blessed Lady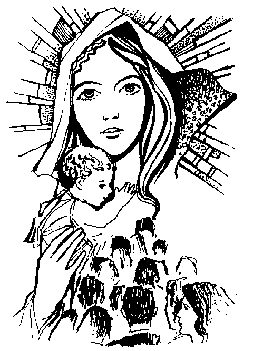 Mary is a simple girl from Nazareth.
She is very humble, she is the most humble person on earth.
She is born without the bad influence of original sin.
When she lived on earth, she never committed a sin.
She is totally without sin.
She is very beautiful, the most beautiful girl from all times in the entire world.
She is a Virgin and rested a Virgin, even after the birth of Jesus.
The Holy Spirit came on her and the power of the Most High overshadowed her.
She has conceived in her womb the Son of God, Jesus.
She is the Living Tabernacle of Jesus.
The Body and Blood of Jesus came into being by the Union with the Holy Spirit, and by her Body and her Blood.
Jesus is perfectly united with His Father and with The Holy Spirit.
Mary is the Tabernacle of the Holy Trinity.
She is the Mother of Jesus, the Mother of God.
She is perfectly united with her Son Jesus.
As a baby, Jesus was totally dependent on her.
She has fed Him, has educated Him.
She was present at all the most important moments in the life of Jesus.
She stood under the cross and saw and felt the Passion of Jesus.
her heart is pierced by a sword.
She was present at the coming of the Holy Spirit at Pentecost.
She is the Perfect Image of the Church.
She is the City of God.
She is the Queen of Heaven, the Queen of All Saints, the Queen of the Angels.
Her Son, Jesus is the King of Heaven and the King of Earth.
She is a perfect guide, who leads us to her son, Jesus.
In a spiritual way, the saints are conceived in her womb and born out her womb.
God's Masterpiece of Mercy
The Blessed Virgin is given to us like God's masterpiece of mercy, as the one whose sole purpose in life is to let us enter the Father's Mercy by this narrow, royal door.
Since Mary is really the masterpiece of this mercy, she is, so to speak, the personification of the Father's Mercy. Our Lord is the source of mercy for us, but in His close relationship with the Father, He is beyond mercy because He is the only Son of the Father; however in the case of the Son, the Father does not adopt an attitude of mercy but an attitude of love.
Mary is a creature, a pure creature. Mercy completely enveloped her from the starting point; all her life she never ceased receiving the Father's mercy in plenitude. This mercy is intended to introduce her into love, but it is a love that takes on a special nuance, because when God's love is communicated to a creature, it necessarily takes the form of a love of mercy.