Gidle, Healing after Accident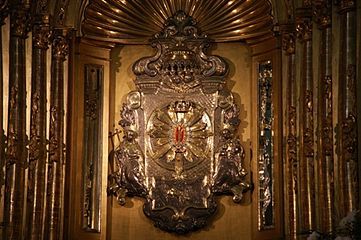 The bones of my husband skull were broken and dislocated,
and brain hemispheres were pushed
The Holy Mother of Gidle – says Mrs. Barbara Ptach – I thank You from the bottom of my heart for saving my husband's life. We arrived today, to say thank you personally. Since the accident passed almost one year, and we everyday say thank you and we talk about this healing, and we would like that as more as possible people could hear our testimony.
We have been doing the pilgrimages to the Holy Mother of Gidle since many years. In the past I did it together with my children, and since two years I have been coming here with my husband. From Gidle, I always take the Holy Mother wine with idea, that if it will be such need in the future, I will be able to ask the Lord for miracle. I did not admitted that it will happen in 2005.
On the 12th October my husband Stanisław had very serious accident. He fell down from a ladder, from the height of 3 meters, and his head knocked a concrete stairs and the cast-iron ladder, which fell down. The injuries were so serious, that the doctors did not give him any chance to survive. A brain bruise and a cracked neck vertebra, the broken bones of skull with dislocation – long about 1 centimetre, the brain hemispheres pushed in a region of frontal lobes – all of it had to cause, according to an opinion of doctors, persistent results. On the same day I called to a lot of people from my family and my friends and I asked for prayer. My husband was on the Intensive Medical Care Ward, he was unconscious, and I watched near to him and pray everyday to the Holy Mother of Gidle for healing, also my whole family prayed. Everyday, I started from the sign of the Cross, which I did on my husband's forehead and I put my finger earlier to the miraculous wine. I was saying: "Stasiu, the Holy Mother came to you".
When after two days appeared a brain haematoma, my faith did not shake even for a moment. We prayed even more warmer to the Holy Mother of Gidle. A surgical operation was successful, and after eight days my husband waked up. However the whole right side of his body was paralysed. It appeared also that he did no say anything and he did not remember anything. I again entrusted all of it to the Holy Mother of Gidle. The doctors said that husband will be able to go out from hospital after at least 3 months, after the long and expensive rehabilitations – on a wheel chair. We prayed even more warmer.
The doctors were surprised because my husband started to recover very quickly. The paralysis was abating. After eleven days after the accident, my husband was able to stand on his own legs. After two weeks he said first words. When he started to talk more freely, he admitted that he recognised us, our family, since the beginning. He had to remind however the basic affairs, but step by step everything was recovering. The doctors said to me that I should send my husband for rehabilitation, because he would recover during long time, but it appeared that a motor rehabilitation was not necessary at all. The doctors said: "You see yourself that we have to do nothing more, we give back your husband to home". And my husband step by step was recovering to full health at home. Only a speech rehabilitation was needed. Two days after he left the hospital, he did not say anything. Our children asked: "Mum, when our daddy will say to us at least one word?". We attended the lessons done by neurologopedist, and after two months my husband reminded himself everything and started to talk in a normal way, he talked with neighbours, who visited us. He started to talk such a lot that he reminded himself everything. It was true miracle. Really we have for what to say thank you to the Holy Mother. My husband after three months after he had left the hospital came back to his work at the same position. He works in a cooling engine room and he uses the computers. He was afraid that he would be unable to perform this work because of lack of memory. In the meantime he reminded everything and he could do the same work as before the accident.
I waged –says Mr. Stanisław Ptach – big war for life and health. My family was somehow from a side, I as a only support of my family, had only one aim: I have to recover to life, to health, to normal activity. I want to recover and I will recover! This, what the doctors were saying was on the second position, the most important for me was my recovery to normal life, health, and efficient activity. During the first period after I regained consciousness, I had one big task – to walk three steps by myself, barely three steps, it is such little, do not you think?
In the hospital I lost weight very much, I was connected to a respirator and I was fed by the drips. This whole situation was bigger than my experience, because I never in my life was in any hospital. I was even born at home. Now, I was put in a totally new situation. My obstinacy was also very big, I fought after all for life. Finally the doctors convinced themselves, that my state of health was not so wrong. On the question: "Do you remember this lady?", though it was difficult to talk for me, because I breathed by the respirator, I answered correctly: "This is my wife, and this is my daughter". I was able to say their names as well.
In the hospital, Mrs. logopedist came to me, with her I exercised using the pictures. These pictures I had to put correctly from the first by the eights. It appears that it is easy task, banal one, it appears even to be stupid. After all I am fifty years old, I worked using a computer, it was very easy for me. In the meantime it appeared that I did mistakes, because when Mrs. logopedist asked captious question, in my head appeared doubts and noise. However after some time I experienced visible improvement. Finally Mrs. logopedist put diagnosis that my state of mental health was good and I could come back to work.
My will of fight for life and coming back to normal activity was very big, I wanted to live very much. If I give way to despair, my hands would fall down and if I say: it can not be help, let be as the doctors say. However, I decided to recover and today I am completely healthy. I do not have any indispositions, my head does not cause pain for me, even in the place of trepanation, where under the skull was the haematoma. I act in normal way and I came back to the work, to my previous position. The machines, with which I work, are controlled by the computers. The most important part of work – it is introducing appropriate programme for each monitor, which is the heart and brain of each machine.
All of it, what happened in my life, I owed to a miracle of the faith of my wife. She was able to engage so many people and to say them about my accident. This day, when I was taken to the hospital, my wife cycled to friends and asked for a prayer help, asked them to remember about me. My state of health was critical, medicine was helpless, the doctors were helpless. In every moment it could happen the worst, but thanks to the Lord it did not happen. I am grateful to my wife for her attitude. If she closed herself at home and grew apathetic, nobody would know about my accident. She however had a lot of strength in herself – he did not look at the state of my health, she did not hear this what the doctors said, she cycled, asked, mobilized and engaged all people to prayer.
Thank You, the Lord, for my wonderful wife. I am grateful to the Holy Mother and my wife for saving my life.

Stanisław Ptach
Gidle, 20th July 2006
The information on this homepage of the Sanctuary in Gidle (Poland) have been taken from the official site on the permission of Father Marek Grzelczak.