Gidle, Healing a Child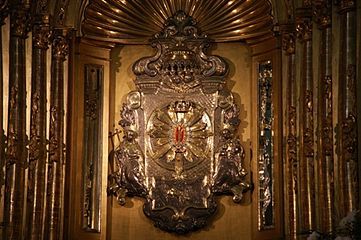 The hospital ward head stated that the child did not give any sings of life
I have seven grandchildren and I live in Radomsko. This, what I would like to say about – says Mrs. Maria Łyp – happened on 17th October 2005 in the family of my daughter. She now lives in England and has five children.
When she came to Poland at that time, a tragic accident happened near Czestochowa: a sport car fell in them and a front collision happened. From the car left a wreck. My daughter lost consciousness, but she was alive. A small - 10 months old child - Emily (Emilka) was taken out of the car and sent to a hospital in Czestochowa. After preliminary examination, the hospital ward head stated that the child did not give any signs of life. He hesitated (we learnt about it later) which decision should be taken. According to this what medicine says, the girl did not have any chances. However, the doctor's heart did not give peace to him, because – as he said – "something in this child wanted to live". In a contravention of medicine, in a contravention of his experience, he started to heal the small child. I was not allowed to see Emily (Emilka). Mr. ward head said that if I entered on the ward, he would have to heal me, because I would be close to death. I stayed with rosary in hand and I prayed. Despite the fact of this terrible tragedy, I was very quiet. Somehow I subconsciously believed that this child could not die, because the child was born on 8th December (It is the feast of the Immaculate Conception of the Holy Mother). I visited my daughter full of internal peace. After some time I heard from the doctor that they could not forbid me to visit the child, because her mother could not see the child, and I was after the mother the most close person. When I finally saw Emily (Emilka), I was thinking that my heart would split. She looked like a three- four years old child. She was the whole swollen, her body was filled with water, she lied palsied, such "corpse". At that time a thought came to me that there was the Holy Mother of Gidle and I had to bring the wine consecrated by touch of the miraculous figure. As I was thinking, I did it.
After entering on the ward of the intensive care I asked the nurses whether I could smear the child with the wine from Gidle and I heard: "please smear". I started to smear and I was praying using my own words. I embrocated the particular parts of the child, the whole her cold body. I embrocated eyes, nose, hands, legs, tummy and in one moment one big tear flew out from her left eye, for me it was a sing and it strengthened my faith that for the Lord there was nothing impossible. From this moment I was more and more sure that the child would live and this happened. From this moment, as far as I remember, a state of my granddaughter health which was critical, the doctors started to define as stabile. Step by step Emily (Emilka) started to come back to health, however still she could not breathe and a respirator was necessary. But her small body was not so icy as at the beginning, but it was becoming more and more warm.
On the Emily birthday, on 8th December, a doctor decided to disconnect the respirator. The girl started to breathe unaided. However she had all bodily organs damaged, the whole her interior was one wreck. In the information card we read:
Cichońska Emilia born on 8th December 2004 was healed in our Ward (the Ward of Intensive Care for Children) during 17th October – 12th December 2005, because of a heavy injury of many organs together with haemorrhagic shock and sharp circulatory- breathing insufficiency. A head injury and a brain bruise were stated. A bilateral bruise of lungs. A brain swelling. A bleeding in eyes. A fracture of liver and spleen. She was healed because of her heart stopped to work. Her spleen was removed and her liver was put a stitch. She had after shock ischaemia stroke and heavy septicaemia.
Today, I can say that thanks to the grace which I received from my the most Beloved Mother, the grace for which I asked, Emily (Emilka) is alive. She is healthy, beautiful, joyful girl, she is not afraid of people, she likes to play. Yesterday we talked by phone. And for it let be a big veneration and glory and admiration for the Lord.
I would like to say thank you for all warm-hearted people, whom I asked for prayer. This that my request was received by them willingly and with a feeling of responsibility, was for me a big support.
To You, the Holy Mother of Gidle, I thank you in a special way. You wanted all members of our family confirm in belief that You really could do everything and that for You and Your Son there were no impossible things. Thank You, Mary that thanks to this experience which I had as a grandmother, You strengthened my faith.
My daughter still is suffering very much after this accident. But she suffers without any anger nor protest. And I, as I can, offer my sufferings for her in order that these sufferings could bring the blessed fruits in the whole her family. Holy Mother of Gidle, thank You and I nestle close to Your Heart together with the saved child and her family.
Maria Łyp
Gidle, Divine Service for healing, 1st April 2007